Helles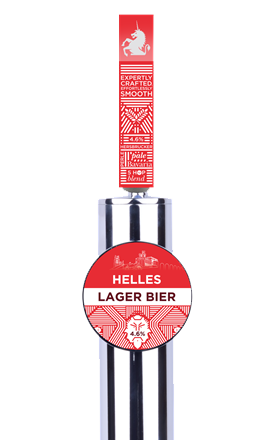 Tasting Notes
Helles is a traditional German pale lager bier. Expertly crafted, effortlessly smooth
View Notes
Tasting Notes
PREMIUM KEG LAGER
Helles, (pronounced 'Hell Es') is a traditional German pale lager bier.
It's all about the brewing process…
We begin with a specially selected premium lager yeast & a variety of classic Noble European hops & throw in some Perle for a little bittering, then the Tettnang & Hersbrucker hops to add character.
During fermentation, we add some Saaz for an earthy & floral hint & finally the Mandarina Bavaria hop to give an extra subtle hint of lemon complexity to the taste & aroma.
Sweetness balanced with a light bitterness, delicately hopped, clear & light, it's the epitome of a thirst-quenching lager bier.
Expertly crafted, effortlessly smooth
Taste
Delicate, soft, lager
---
Dietary Guidelines
Contains: Malted BARLEY and WHEAT